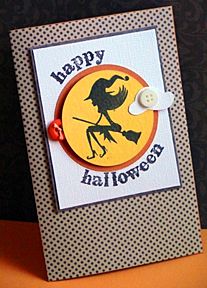 Halloween is fast approaching. I thought I would make one more card to send to a friend. I used the Witchy Poo Collection once again. There are so many images in that set. It is fabulous.
To make this card, I stamped the witch onto yellow cardstock. I used a circle cutter to cut out a circle. It represents the moon. I cut a slightly larger circle in orange, and adhered the two circles together with foam adhesive.
Adhere the circles to the white panel. Stamp the sentiment following the curve of the outer circle. I stamped each letter individually to make sure they were spaced correctly.
Use additional pattern paper to finish off the card. I added two buttons and a small cloud for some interest and to offset the symmetrical design.
So, are you ready for Halloween? Do you have your costume yet?
Thanks for stopping by today.
-Kim F.
Supplies:
Gel-a-tins Witchy Poo Stamp Collection
Black Ink by Ranger
Cardstock by Prism
Pattern Paper by Die Cut With A View
Buttons
Twine by Martha Stewart
Letter Stamps from Michael's