Hello out there in blog land! Can you believe it's already June?!? We're half way through the year. Where has the time gone?
We are a little over a week away from Father's Day here in the US. I like to make my husband a card from me for Father's Day. I know that Father's Day is for kids to remind their fathers why they appreciate them, but I like to also remind my husband that I see how great of a father he is to our daughter.
Supplies Used:
Love Knots stamp - gel-a-tin stamps
watermark ink - versamark
clear embossing powder - Stampin' Up
chipboard - Maya Road
buttons - random from my jar o buttons
Modeling Paste
At first glance, the hearts in the Love Knots set made me think of a feminine project. I have a hard time mixing hearts into guy projects. But, I knew that it would work perfect for a card that was given out of LOVE!
I used the Love Knots background stamp to create the background for my card. I stamped it with watermark ink, then added clear embossing powder. I wanted to add texture with this stamp, but I wanted it to be subtle on the background.
I sometimes struggle to add embellishment to masculine projects because I am a glitter and bling lover! One of my favorite embellishments to add for a guy are buttons. For this card, I stuck the buttons in a straight row, then stitched them on with twine. This row of buttons served two purposes. First, was embellishment. Second, the placement was to cover a mistake! I was a little off with seaming the background stamps together on this card, so I made sure that my buttons covered the gap! If there is one thing that I can teach someone about stamping, it's that mistakes happen and it's ok! Keep going with your creation and see where it goes!
Finally, I wanted to use the boy potty person on the card. The smaller keychain people that Maya Road sold had a hole in the middle of the head. To cover that and add more texture to my card, I dabbed modeling paste all over the chipboard. Once it dried I added mist over the top to add color.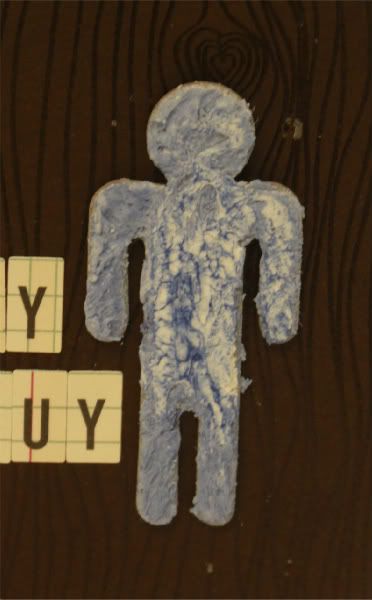 I look forward to seeing what everyone creates with this fun background stamp!