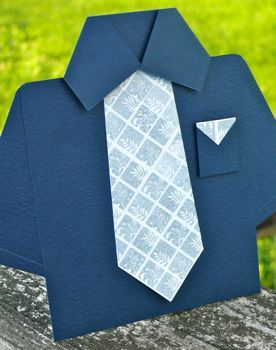 Hello, everyone! I would like to share another Father's Day idea with you. This cute shirt can be made into a stand-alone display or a greeting card.
To begin, cut a piece of cardstock to 5" x 7". Come down about one inch from the top, cut a one inch slit on the left side, and one inch slit on the right side. Fold in the flaps to make the collar.
To make the pattern on the tie, use the small square stamps from the Unbeleafable Collection. Arrange them on the clear stamp block, and just keep stamping until you fill up half a sheet of cardstock. Cut out a tie shape and adhere underneath the collar flaps. Use adhesive foam squares under the collar and end of the tie for dimension.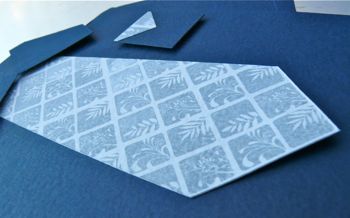 Cut a small rectangle for a pocket. Add a small scrap of the stamped design to serve as a handkerchief hanging out of the pocket. Use adhesive foam squares to make it pop off the shirt. Cut 2 rectangles and adhere at an angle for the sleeves.
To make the shirt a stand-alone display, add a piece of folded cardstock to the back to make it stand up. If you would like to make this a greeting card, make the body of the shirt a folded card base. The sleeves can be optional.
I hope you enjoyed this project. You can use many of the stamp collections for tie patterns. Cheveron-tastic would make a great tie! I just might have to try that...
Thanks for stopping by.
Kim F.
Supplies:
Gel-a-tins Stamp Set: Unbeleafable
Other:
Cardstock: Prism
Ink: Distress Ink by Tim Holtz in Weathered Wood
Adhesive Foam Squares