...oh my! Isn't the Safari Friends set just too cute?! It is perfect to create some decorations for a little boy's birthday party.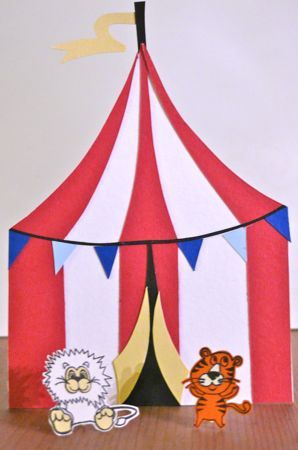 I created this circus tent from cut paper. I found an image through an online search to use for inspiration.
The first step is to cut the tent shape from white cardstock. Trace that onto a piece of red cardstock. Cut into stripes.
Cut a piece of black cardstock into the shape of a tall, skinny triangle. When adhered to the center stripe along with two smaller yellow triangles, it will look like the tent flaps are slightly open. Add a banner of triangle flags, and a waving flag at the peak of the roof and your big top is complete.
Stamp the lion and tiger onto orange, yellow, and off-white cardstock. Cut out the pieces and adhere together. I love to use stamps for a paper-pieced look.
Add small pieces of folded cardstock to the back of all finished items to make them stand up. An adorable idea would be to place the circus tent at the top of a cupcake carousel display. And then randomly place lions and tigers amongst the cupcakes...or use them as cupcake toppers. Simply adhere them to toothpicks.
I hope you enjoyed this project. Be sure to stop by each day to see what all of the Gelatina's have in store!
-Kim F.
Gel-a-tins:
Safari Friends Collection
Other Supplies:
Cardstock by Prism
Distress Ink by Tim Holtz in Black Soot