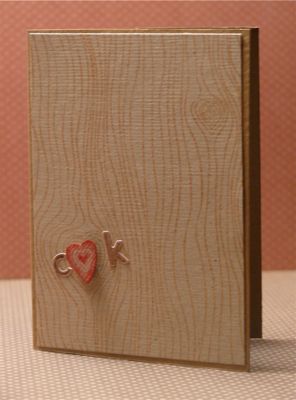 I made his card in honor of my fiance. We knew each other growing up. About 6th grade, we decided to carve our initials in the tree out front of my house. Many years later, we assume those initials are still there as that tree is much, much taller.
This background stamp, Love Knots, is perfect for a tribute to that expression of our childhood love.
To make this card, stamp the image onto light brown cardstock with brown ink.
Stamp it once more using red ink. Cut out part of the heart knot and adhere it with a foam adhesive square for some dimension. Add letter stickers. I used light brown stickers and just darkened them a bit with a colored pencil.
Adhere the stamped panel to a darker brown card base.
I hope you "love" this quick and easy card. Thank you for stopping by today!
-Kim F.
SUPPLIES:
Gel-a-tins Loveknots Background Stamp
Red Chalk Ink by Colorbox
Brown Distress Ink by Tim Holtz
Letter Stickers by Jillibean Soup
Cardstock
Foam Adhesive Squares