Hi, everyone. This is Kim F. I hope your week is going well. I am ready for the weekend!
One of my favorite ways to express my creativity is to make jewelry. Here is a necklace I created using the Unbeleafable Stamp set. A simple technique that is fun and fashionable.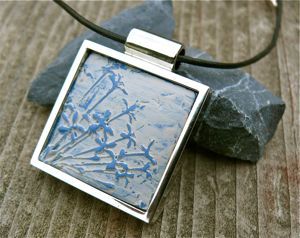 To begin, choose a color of oven bake clay. I used Premo! by Sculpey in Denim Blue. Work a small piece until it becomes soft. Roll it into a ball and flatten to about 1/16 of an inch. Choose a stamp from the collection and put a small amount of cooking spray on the surface. This will prevent the stamp from sticking to the clay. Then simply press the stamp into the clay. Carefully remove the stamp. Immediately clean off the stamp with a baby wipe.
To give your pendant a finished look, use a bezel setting such as this one by Lisa Pavelka. Using a craft knife, trim your stamped clay to fit inside. Bake your piece (just the clay, not the bezel) according to the package instructions.
Once your piece is cool, cover the front with white acrylic paint. Let it dry a bit. Then take a damp paper towel and lightly wipe away some of the paint from the raised surfaces. This will bring out the detail of the stamped design.
Add your piece into the bezel. The clay can be sanded around the edges if the fit is not quite exact. You can also use adhesive made for clay to keep the piece secure.
Hang the pendant on a jewelry cord and you are ready to go!
Supplies:
Gel-a-tins Stamp Set: Unbeleafable
Other:
Premo! Sculpey Oven Bake Clay in Denim Blue
White Acrylic Pain by Martha Stewart
Silver Square Bezel by Lisa Pavelka
Black Jewelry Cord with Clasp (found at a bead supply store)