Thank you for thinking of us today and stopping by the blog. I hope you are enjoying all of the projects the gel-a-tinas are sharing. Please feel free to share any projects you create with any of the gel-a-tins stamps.
Here is a card I created using the flower stamp from the new gelly jrs collection. I can think of many uses for this design.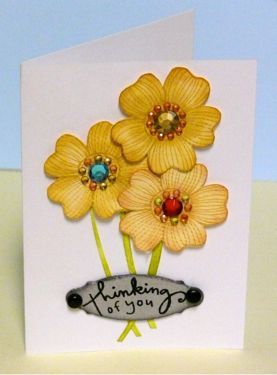 To create this cute bouquet, stamp 3 flowers onto light yellow cardstock. Cut each one out. Use a stamp dauber to add a bit of ink around the edges. It gives each flower a little dimension. Embellish the centers with rhinestones, buttons, or anything else you may have in your stash.
Cut thin strips of green cardstock for stems. Use the dauber once more to add a bit of green ink. A very light touch is all that is needed. Add a chipboard plaque, a rub-on sentiment...finish off with two brads and more ink. Your card is ready to let that special someone know you are thinking of them!
Have a wonderful day, everyone!
Kim F.